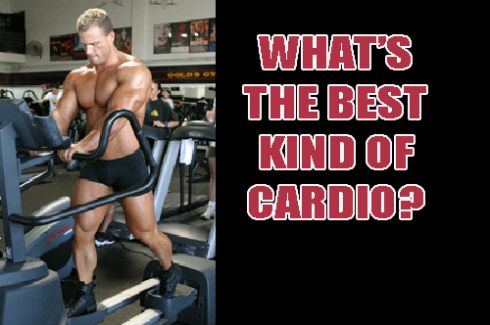 Lets' cut right to the chase; when it comes to getting lean, cardio is somewhat overrated. Anyone can sit on a bike for two hours a day and get lean but for the most part, as with training, there's a fine line between doing enough cardio and going overboard and doing too much.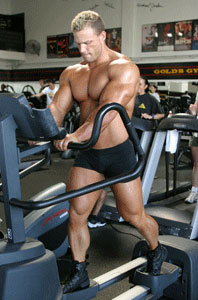 In my book Everything You Need To Know About Fat loss (that was a shameless plug for you to buy it) I explain that cardio is simply a way to burn excess calories. Pretty straight-forward. You sit on a bike or run the stairs and you burn calories and, for the most part, the vast majority of those calories come from stored body fat. However, getting lean is not always a perfect math equation where you can sit down and plan out your contest prep based on the number of calories you expect to burn.
"Gee I am going to get sliced to the bone this year. I'll do 2 hours of cardio 7 days a week. Two hours a day should burn off 1000 calories of stored body fat and since 3500 calories is equivalent to a pound of fat, in 7 days I'll drop 2 pounds of pure fat."
For those who missed it, exercise scientists agree that you must expend 3500 calories to drop a pound of fat. In the perfect-prep-planner's world he can burn 7000 every 7 days for a total of 2 pounds of fat loss weekly
The problem is that after a while, the body is able to do the same work (i.e. peddle that bike for 2 hours) but burn less fuel. It's called, or I call it, "calorie accommodation." Just as the muscles adapt to progressively heavier weight training by becoming bigger, the body's metabolism adapts to chronic and constant cardio by being able to get the same amount of work done but on fewer calories. So, just for arguments sake, let's say a person hits cardio a couple of hours a day, what happens at the 7 week mark? In many cases, his body no longer gets leaner. Why? His body can get the same work done on fewer calories. We've all heard the term "over dieting" where a bodybuilder starves his ass off only to come into a show flat and smooth. This occurs when the metabolism breaks down due to caloric restriction. Sometimes, with excess cardio, the same phenomena occurs; the bodybuilder fails to get lean because, due to massive expenditure, the metabolism just says "screw it" and shuts down, or at least slows down. That being said, I have seen people eat very few calories and get ripped and others do huge amounts of cardio and get ripped. Does that invalidate the idea that super hard dieting (i.e. very low calories) or large amounts of cardio can backfire on you and make you softer? No. It simply means, in these cases, that these individuals never experienced the metabolic breakdown that can occur with over dieting or lots and lots of cardio. It also honors the time tested idea that everyone is different. People (bodybuilders) come in all shapes and sizes with different metabolisms and often different physiques respond differently or uniquely to different cardio loads, diets or even training methods.
What about intensity? It really depends on your body. If you're smaller, then high intensity is the way to go. If you are a big bodybuilder and carry a lot of mass, lower intensity rules the day. Think trucks. If an 18 wheeler and a small pick-up truck where to travel from the Rx Muscle headquarters to my office in Maine, that's 350 miles in total. Both trucks head up interstate 95 and travel at 60 miles per hour for 6 hours. Who burns more fuel? It's a no brainer. The huge 18 wheeler wins by a mega-long shot. Big trucks need lots of fuel to move them! What if the small pick-up truck really revs it up and travels at 85 miles per hour? Does it burn as much fuel as the 18 wheeler moving at 60 miles an hour? Not even close. What if the 18 wheeler travels at 40 miles per hour and the small pickup travels at 85mph. . . and not only does it make it to my office but it continues on for another 200 miles? Does the much smaller pick-up (moving faster and traveling further) burn more fuel then the huge 18 wheeler? Not even close. The take home point is that big bodybuilders burn more fuel than smaller bodybuilders and, therefore, can work at a far lower intensity yet get "more" (i.e. leaner) out of the cardio then their much smaller counterpart. So when it comes to cardio intensity, a lot of times, with a big bodybuilder, I will opt for lower intensity whereas with a smaller bodybuilder- - to optimize that more fuel is used (i.e. body fat)-- I'll have them boost up the intensity so that they burn more fat. For the most part, the take away message is that the bigger you are, the more you get to look like a lazy dude on the treadmill (barely moving) to get leaner. And if you're a smaller guy or female competitor, you're analogous to the small pick-up. You have to work way way harder to get the same calorie burn as the big super heavyweight bodybuilder.
Of course there's an exception to every rule! Sometimes it takes a little trial and error to find out what works best for your body.